The February 13 marked the beginning of new acquaintances and friendships for trainers from Lithuania, Serbia, Spain and Greece with the EY-DGF project Erasmus+ program "Engaging Youth in a Digital Green Future".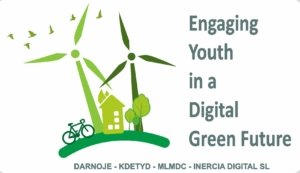 The training in Huelva, Spain lasted 5 full days where our wonderful host and trainer Oscar guided us through the topics of green entrepreneurship, the EU Green Deal and sustainable development issues. We shared our governments' approaches to ecological problems, the differences and the solutions we have. We also discussed EU goals and the 2030 agenda with which the EU has set targets to tackle poverty, inequality, economic and ecological issues
This mobility has allowed all of us from the participating organizations DARNOJE (Lithuania), Inercia Digital (Spain), MLMDC (Serbia), KDETYD (Greece) to get to know each other and our cultures in depth, strengthen relationships and advance the ultimate goal of world peace among all countries.
We thank you the educational organization "Inercia Digital" for hosting and providing all the facilities for an excellent educational program, the facilitators Oscar González Fernández and Cristina Romero.
The program continues with online meetings between the partners and youth training activities in each participating country.